May is Asian-American and Pacific Islander Heritage Month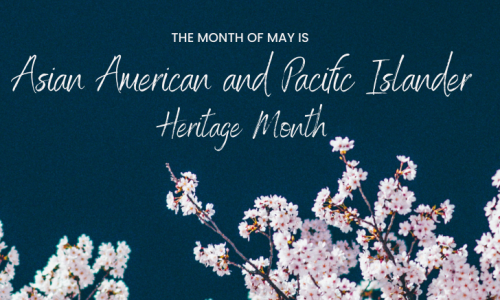 by Gwen Stephan, 12 May 2022
Header image: Airman 1st Class Klynne Serrano, 97th Air Mobility Wing Public Affairs photojournalist, and Maj. Veronica Prado, 730th Air Mobility Training Squadron executive officer to the commander, perform a traditional Hawaiian Hula during the Asian American and Pacific Islander Heritage Month Kickoff celebration, May 1. Asian American and Pacific Islander Heritage Month celebrates the culture, traditions and history of Asian Americans and Pacific Islanders in the United States. The month of May was designated as Asian and Pacific American Heritage Month May 1992 to commemorate the contributions of Asian Americans and Pacific Islanders in America. (U.S. Air Force Photo by Senior Airman Jesse Lopez/Released.)
What IS AAPI Heritage Month?
May is a time for everyone to celebrate Asian American, Native Hawaiian, and Pacific Islander culture, history, and heritage.  From May 1st to 31st, the nation pauses to consider the influence Asian Americans and Pacific Islanders have had in the U.S., as well as to remember the oppression Asian Americans, Native Hawaiians, and Pacific Islanders have faced in our country.  It is important to remember that being anti-racist is a daily practice, and part of that practice is to admit the mistakes of the past and work at making sure they are righted and not repeated.
AAPI Heritage Month History
In 1977, a resolution was proposed to the House of Representatives to proclaim the first ten days of May as Asian-Pacific Heritage Week, and shortly thereafter a similar bill was introduced to the Senate. In 1978, President Jimmy Carter signed a joint resolution to instate Asian-Pacific Heritage Week.  In 1992, President George H.W. Bush extended it to a month.  In May of 2009, President Barack Obama signed a proclamation that recognized May as Asian American and Pacific Islander Month.
Why May?
On May 10, 1869, a golden spike was ceremoniously driven into the First Transcontinental Railroad, a nearly 2,000-mile-long railroad line connecting eastern U.S. with the west coast.  The railroad was built mainly by Chinese immigrants.  Thanks to the railroad, travel time from the east coast to the west coast dropped from weeks or months to a matter of days.
In addition, May was chosen as May 7th, 1843 marked the day the first Japanese immigrant arrived in the United States.
Why Do We Need an AAPI Heritage Month?
7% of the U.S. population is AAPI, approximately 24 million people.
There is a long history of racism and xenophobia against Asian Americans in the U.S., starting in 1875 with the Page Act, which banned Chinese women from entering the country, among other things.  In 1882 there was the Chinese Exclusion Act, which essentially banned all Chinese immigration, after Chinese immigrants had been essentially in building the Transcontinental Railroad. In 1907, the Gentleman's Agreement limited
Japanese immigration and in 1924 the Asian Exclusion Act restricted all Asian immigration until the 1960's.
"Our history is also filled with incredible stories of resilience, of persistence, of determination, to fight for our basic rights… This is a celebration of our history, our culture… and all the different ways in which our community has really demonstrated that we're not only here to stay, we are a part of this fabric – a part of this country."
-Cynthia Choi, co-executive director of Chinese for Affirmative Action and co-founder of Stop AAPI Hate, in an interview for NPR
Internment Camps
During World War II, Japanese Americans were forced out of their homes and made to live in internment camps.  Shortly after Pearl Harbor was bombed, President Franklin D. Roosevelt established the internment camps in Executive Order 9066, and from 1942 to 1945, anyone of Japanese descent (including U.S. citizens) would be incarcerated in these camps.  Executive Order 9066 affected the lives about 120,000 people—the majority of whom were American citizens. Following the president's order, anyone who was at least 1/16th Japanese had 2-6 days to pack up their belongings and dispose of anything they couldn't carry.  They were to report to so-called "Assembly Centers" and then transported to "Relocation Centers."
Relocation Centers
There were 10 "Relocation Centers," typically set up with barracks-like dormitories and communal cafeterias.  The barracks were poorly constructed and at first did not have any insulation or privacy.  The centers would have schools, post offices, work facilities, and farmland, all surrounded by barbed wire and guard towers manned by armed soldiers.  Any prisoners who resisted were declared "dissidents" and sent to a camp in Tule Lake, California.  Prisoners faced violence from the soldiers guarding them, isolation, poor living conditions, and the trauma of being unhoused and treated as criminals.  In 1988, the U.S. government offered 80,000 survivors of the internment camps reparations, totaling only about $1.6 billion.
How Can We Celebrate AAPI Heritage Month?
Support Asian American owned businesses
Read and listen to the stories of Asian Americans
Check out art made by Asian American creators
Donate to Asian American nonprofit organizations
Educate those around you
Stand up against anti-Asian bigotry when you see it
Since the COVID-19 pandemic began, there has been an increase in hate crimes committed against Asian Americans.  In 2021, there were 6,273 reported hate crimes against Asian Americans, and the true number is certainly much higher.  This means that it is even more important now than ever before to work toward a more equitable and safe country for all.  Doing so starts with you.
Further Viewing
Asian Pacific American Heritage Month – The Library of Congress, National Archives and Records Administration, National Endowment for the Humanities, National Gallery of Art, National Park Service, Smithsonian Institution and United States Holocaust Memorial Museum join in paying tribute to the generations of Asian and Pacific Islanders who have enriched America's history and are instrumental in its future success. Includes information on events, art exhibits and collections, audio & video, photographs, resources for teachers, and historical information.
Stop AAPI Hate National Report – This national report features: the overall descriptions of 10,905 hate incidents from Stop AAPI Hate data and the gender specific descriptions of hate incidents. TW: Discussion of racism, violence, hate crimes, etc., including quotes from victims.
Federal Asian Pacific American Council website – Includes resources for further study, job openings, and upcoming events.
Webinar: AAPI Heritage Month Connecting and Healing: Asian Pacific American Cuisine – More Than Just Comfort Food – Webinar Registration. May 19, 2022 @ 1:00 p.m. EST via Zoom.
Japanese Internment Camps – Article from history.com, featuring more information on the internment camps. TW: Descriptions of violence against prisoners, murder, anti-Asian racism.
Japanese-American Incarceration During World War II – Public domain information on internment camps, including primary sources and a teaching activity aimed at grades 10-12. TW: Photos of internment camps and prisoners, nongraphic, photos including armed guards.
"Why Japanese-Americans received reparations and African-Americans are still waiting" – Article by Rhoda E. Howard-Hassmann that goes into details about reparations. A timely and important discussion. TW: photos including armed guards, discussions of African American slavery.
Redress and Reparations for Japanese American Incarceration – An in-depth article including quotes from and anecdotes about former prisoners of the internment camps. More articles related to the topic are featured after the article. TW: Descriptions of harassment, poor living conditions.
Resources
Federal Asian Pacific American Council. (2022, January 3). FAPAC announces theme for the 2022 Asian American Native Hawaiian Pacific Islander Heritage month. FAPAC. Retrieved May 12, 2022, from https://fapac.org/pressreleases/12235330
Howard-Hassmann, R. E. (2019, July 17). Why Japanese-Americans received reparations and African-Americans are still waiting. The Conversation. Retrieved May 12, 2022, from https://theconversation.com/why-japanese-americans-received-reparations-and-african-americans-are-still-waiting-119580
HHS Press Office. (2022, April 29). Fact Sheet: Celebrating Asian American, Native Hawaiian, and Pacific Islander Heritage Month 2022. HHS.gov. Retrieved May 12, 2022, from https://www.hhs.gov/about/news/2022/04/29/fact-sheet-celebrating-asian-american-native-hawaiian-and-pacific-islander-heritage-month-2022.html
History.com Editors. (2022, April 5). Asian American and Pacific Islander Heritage Month. History. Retrieved May 12, 2022, from https://www.history.com/topics/holidays/asian-american-pacific-islander-heritage-month
National Archives and Records Administration. (2022, January 24). Japanese-American Incarceration During World War II. National Archives and Records Administration. Retrieved May 12, 2022, from https://www.archives.gov/education/lessons/japanese-relocation
NRCS Caribbean Area. (n.d.). May is Asian American – Pacific Islander Heritage Month! Retrieved May 12, 2022, from https://www.nrcs.usda.gov/wps/portal/nrcs/detail/pr/about/civilrights/?cid=nrcseprd344635
Park, S. J. (2022, May 9). What Is Asian American and Pacific Islander Heritage Month—and How Is It Celebrated? Reader's Digest. Retrieved May 12, 2022, from https://www.rd.com/article/asian-american-and-pacific-islander-heritage-month-facts/
Salem Media. (2019, August 1). Japanese Internment Camps in the USA. History on the Net. Retrieved May 12, 2022, from https://www.historyonthenet.com/world-war-two-japanese-internment-camps-in-the-usa
Stop AAPI Hate. (2022, March 4). National Report (through December 31, 2021). Stop AAPI Hate. Retrieved May 12, 2022, from https://stopaapihate.org/national-report-through-december-31-2021/
Torchinsky, R. (2022, May 2). The story behind Asian Pacific American Heritage, and why it's celebrated in May. NPR. Retrieved May 12, 2022, from https://www.npr.org/2022/05/02/1095812576/aapi-asian-pacific-heritage-month-origin-may-why
Yoshida, H. (2021, August 13). Redress and Reparations for Japanese American Incarceration. The National WWII Museum | New Orleans. Retrieved May 12, 2022, from https://www.nationalww2museum.org/war/articles/redress-and-reparations-japanese-american-incarceration